BEYOND COMPANIONSHIP: FORGE A STYLISH CONNECTION WITH OUR EXCLUSIVE COLLECTIONS, CELEBRATING THE UNITY OF HUMANS AND ANIMALS.
READY TO WEAR
LEATHER
JEWELLERY
FRAGRANCE
BETTER TOGETHER
ANIMAL
HUMAN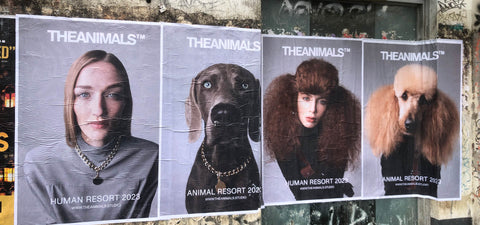 UNLEASHING HAPPINESS
"JUST LOVING MY CLASSIQUE SAC POUR NOUS! BEING A HUMAN WITH NO PETS (BUT A MASSIVE PET LOVER) THE BAG IS MY PERFECT GO TO FOR MY DAILY WALKS AND FOR EASY CROSS BODY DAILY NEEDS. I LOVE THE CINNAMON COLOUR WHICH GOES WITH EVERYTHING AND IT FITS MY PHONE, KEYS, SUNGLASSES AND EVEN MY EARPODS. TEAMED WITH THE UTILITY BAG IT IS THE PERFECT COMBO TO USE FOR A SINGLE CREDIT CARD OR LIP BALM! I GUESS THE MOST IMPRESSIVE THING IS THE QUALITY OF THE LEATHER, STITCHING AND HARDWARE…SO LUXURIOUS. HONESTLY SO MANY PEOPLE STOP ME TO ASK ABOUT IT I THINK I NEED ANOTHER IN WHITE!"
"My product of choice is the Classique collar, We have both colours. It is strong enough to withstand Weimaraner play time and also looks stunning on our boy. The leather is very good quality as is the hardware."
"I was so excited when I saw this product. Finally, I could get a collar/necklace that had class and sophistication. The necklace also comes with a clasp that gives me peace of mind knowing it won't accidentally come off. Overall, I'm extremely happy with the purchase and would highly recommend this necklace to anyone looking for a stylish and high-quality piece of jewellery for their pup or even themselves."
"The attention to detail is exceptional, and it truly shows in every aspect of the design. The stunning leather quality is evident at first glance, and it feels incredibly soft and supple to the touch. The craftsmanship is impeccable, and the matt black edging adds a touch of elegance that elevates the entire look of the harness. When I put the harness on Butter, I couldn't believe how amazing it looked on him. The fit was perfect, thanks to the adjustable straps and simple press-release clasp. The contrasting bone-colored thread added a sophisticated touch that made Butter stand out even more. Everywhere we go, people can't help but compliment how stylish and chic he looks in his harness."
"We are using THEANIMALS accessories to make our daily walks in the streets of Paris more stylish and fun! They feel very luxurious and I really loved the quality and softness of the leather. The style is very classic so they are something that you can keep for long time."
"I must say, I'm absolutely in love with everything you offer! Your luxurious and easy to style dog accessories have captured my heart!"