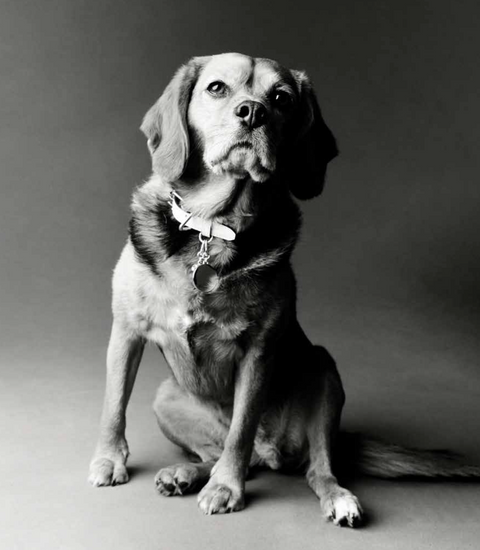 MEET OUR MUSE - THEANIMALS™
THEANIMALS™ muse Rosie Goldman wears Classique Collar in blanc and Disque Charme
ROSIE GOLDMAN VITAL STATISTICS
Breed: Beaglier
Favourite food: Food toppings, especially tuna surprise and roast chicken
Loves to play with: Sticks and pods that she brings into the house
Favourite walking location: Cooper Park in Sydney's eastern suburbs, where she can bathe in the waterfalls
Human/s: THEANIMALS™ Founder Jo Goldman, husband Anton and daughters Allegra and Guilia
Instagram handle: @rosie_goldman
BREED FACT
The Beaglier, or beagle/cavalier mix, is a hybrid breed that combines the playfulness of a beagle with the sweetness of the Cavalier King Charles spaniel. This breed is small in stature, affectionate and outgoing which makes them the perfect fit for most households, including first-time pet parents. Sounds just like our lovely Rosie!
IT ALL STARTED WITH ROSIE
It all started on a morning walk when Rosie's human THEANIMALS™ Founder Jo looked down at Rosie's sweet Beaglier face and thought to herself 'why don't I design a collection of exquisite fashion pieces that look as good on humans as they do on dogs'. And in that moment, THEANIMALS™ was born.
With a 25+ year career in the fashion industry and a passion for fashion trends, the environment, and of course dogs, Jo saw that there was something missing when it came to spending time with her dog. Ever the devoted companion, Rosie agreed to be model and muse and together Jo and Rosie set about creating a collection of beautiful pieces for animals and their humans to wear together or apart.
Inspired by global fashion trends, THEANIMALS™ offers pets and their owners a tightly curated selection of matching fashion accessories. Everything THEANIMALS™ creates is consciously designed to care for the planet on which we walk with our animals, and is made for sharing.