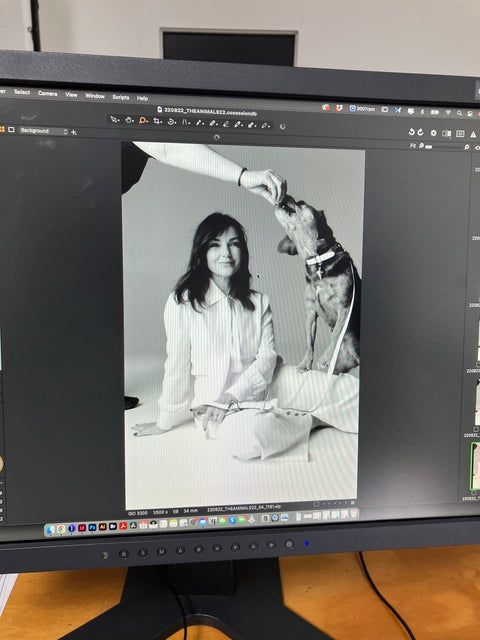 DISCOVER THEANIMALS™ LAUNCH CAMPAIGN
'Doppelgänger's' is the concept for THEANIMALS™ Resort 2023 campaign photo shoot. The idea explores how people and their pets often share similar physical and even behavioural characteristics, which can become more apparent as their relationship deepens over time.
THEANIMALS™ was created to celebrate the relationship between pets and their owners with runway inspired fashion pieces that look as great on humans as they do on animals. We like to say that the THEANIMALS™ is 'species-fluid', unbound by conventions of gender or species. We work with designers and manufacturers to craft pieces that you wouldn't usually expect to find for your pet.
With the 'doppelgängers' concept in place, the search began to find humans and animals that matched. Shoot day came together like a military operation. Six canine models (all scheduled to arrive at different times to avoid play-time distractions), four human models, Australia's leading fashion photographer, stylist and hair and makeup team, an animal handler, a dog groomer, a dog concierge and six proud dog parents. Please enjoy some of the behind the scenes fun from the shoot.
THE ARRIVALS
It's shoot day! French Bulldog Dusty is first to arrive
Mason is excited to meet his doppelgänger, Bella the Cocker Spaniel
Afghan Zeni arrives. "Glamour never takes a day off"
Here's Hayek the Weimaraner arriving with his entourage
THE BEHIND THE SCENES ACTION
Dusty strikes a pose
The Glam Squad are here for Saffron the Groodle
Coffee anyone?
THEANIMALS™ Founder and CEO Jo gets the Linda Jeffereys makeup treatment
A treat for Rosie
Lucy before
Lucy during
Lucy after
Some last minute styling adjustments for Kate
A quick touch-up for Daria
Mason's turn on-set
A kiss for Saffron and her perfect pom-poms